A great quarterback gives you a puncher's chance. He can overcome deficits, penalties, marginal teammates and sub-par coaching. Aaron Rodgers, the physical manifestation of hope, could return from his collarbone injury on Dec. 17.
You can easily make the argument that he's the best quarterback to ever play the game.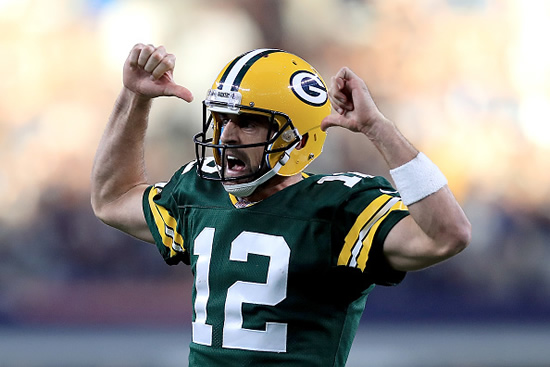 This isn't just great news for the Green Bay Packers, 6-6 going into Week 14 play. This is great news for everyone bored by the current state of the NFL. There aren't that many exciting teams. There aren't that many players worth your time or dollars.
"That boy," Packers running back Jamaal Williams said, according to the Green Bay Press-Gazette. "He came back, and he just flicked it. I was like, 'Dang!' I was like, 'Wow! Are you sure that man is injured?' I was like, 'That is far! I couldn't even do that on my good day.'"
The return of Rodgers might be enough to push the Packers into the playoffs. Given the current state of the NFC, that should terrify the rest of the conference. Rodgers, arguably the greatest quarterback in NFL history, is good enough to win anywhere despite the odds and mediocre talent surrounding him.
Green Bay's final three games are at Carolina, home against Minnesota and at Detroit. The Vikings are likely to win the NFC North, but the Packers could sneak in as a wild card with some help. Green Bay is battling with Atlanta, Carolina and Seattle and probably needs two of those three to lose a couple of more games.
It's tough sledding, but Rodgers knows how to "run the table." He did so last year, almost single-handily helping the Packers rally from a 4-6 start to reach the NFC Championship game.
If Hundley passes for under 100 yards at Cleveland, the Packers will likely lose. Hundley just has to not turn over the ball and play efficiently until the savior returns.
Rodgers' greatness might not be appreciated enough because he only has that one Super Bowl championship. But remember, that 2010 Packers team was a No. 6 seed. This was probably the worst Packers team to make the Super Bowl. They won three road playoff games because of Rodgers.
You can easily make the argument that he's the best quarterback to ever play the game. He owns the highest passer rating in NFL history and the best touchdown to interception ratio.
Returning from a collarbone injury can be tricky. We don't know what kind of Rodgers we're going to get. But do you want to best against Rodgers? With him, the Packers might only have a Hail Mary chance to make the playoffs. Good thing Rodgers excels at Hail Marys.